Outlander Inspired Charm Bracelet Handmade
---
Outlander Inspired Charm Bracelet Handmade
£25.00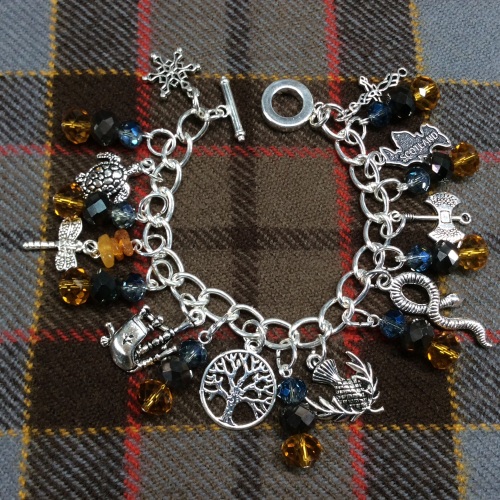 Outlander Inspired Charm Bracelet
Handmade and loaded with silver plated charms including a snowflake, turtle, dragonfly with real amber chips, bagpipes, tree of life, thistle, snake, axe, Scotland and Celtic cross, and 9 amber, brown and blue faceted crystal drops, on a 7.5" silver plated toggle clasp chain bracelet
Every bracelet is handmade to order.
Must have for any Outlander fan. Great gift.
I meant it, Claire. My life is yours. And it's yours to decide what we shall do, where we go next. To France, to Italy, even back to Scotland. My heart has been yours since first I saw ye, and you've held my soul and body between your two hands here, and kept them safe. We shall go as ye say.