Celtic Unicorn Drinks Coaster Wooden Scottish Handmade
---
Celtic Unicorn Drinks Coaster Wooden Scottish Handmade
£5.00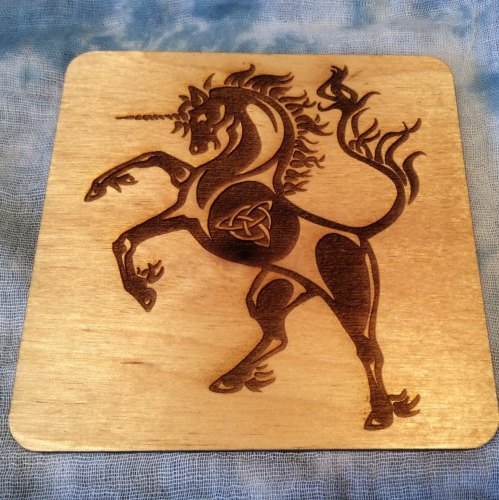 Celtic Unicorn Handmade Wooden Drinks Coaster
Handmade, Scottish, laser cut wooden drinks coaster, 100 x 100mm, with a Celtic Unicorn etched in the surface, sealed and varnished, with protective feet on underside.
The Unicorn has been a Scottish heraldic symbol since the 12th century, when it was used on an early form of the Scottish coat of arms by William I.
In Celtic mythology, the Unicorn of Scotland symbolised innocence and purity, healing powers, joy and even life itself, and was also seen as a symbol of masculinity and power.