Supernatural Protection Pendant Angel Wing Pentagram Salt
---
Supernatural Protection Pendant Angel Wing Pentagram Salt
£9.00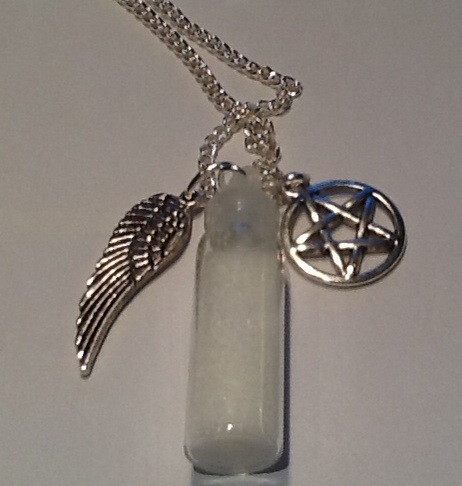 SUPERNATURAL Protection Necklace
Supernatural inspired Protection pendant with Angel Wing and Pentagram charms, and a bottle of Salt.
Available on a selection of chain lengths. Bottle of salt measures 34mm excluding the cap.
On this charm necklace you can find both salt to seal windows and doors, an angel wing (Castiel) and a pentagram charm, a perfect protection against demons!
The pentagram also known as the Devils trap is a mystical symbol used to immobilize and control demons.
Sam and Dean Winchester have used it in many eposodes for this purpose! If a demon walks inside the outer circle of a devil's trap, it cannot physically leave it, and is trapped.