Game of Thrones Inspired Charm Bracelet Handmade
---
Game of Thrones Inspired Charm Bracelet Handmade
£22.00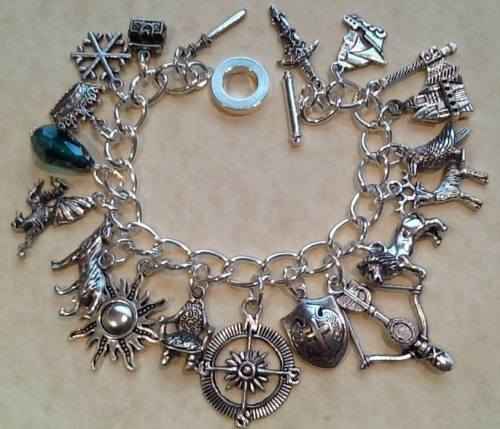 Game of Thrones Inspired Charm Bracelet.
Game of Thrones Inspired Charm bracelet, handmade and loaded with silver plated charms including a sword, treasure chest, crown, faceted dragon egg crystal drop, dragon, wolf, sun, throne, compass, shield, crossbow lion, stag, raven, castle, axe, ship, and a dagger, on a 7.5" silver plated toggle clasp chain bracelet.
Every bracelet is handmade to order.
Must have for any Game of Thrones fan. Great gift.
Game of Thrones is an American fantasy drama television series. It is an adaptation of A Song of Ice and Fire, George R. R. Martin's series of fantasy novels, the first of which is titled A Game of Thrones.
The series, set on the fictional continents of Westeros and Essos at the end of a decade-long summer, interweaves several plot lines. The first follows the members of several noble houses in a civil war for the Iron Throne of the Seven Kingdoms; the second covers the rising threat of the impending winter and the mythical creatures of the North; the third chronicles the attempts of the exiled last scion of the realm's deposed dynasty to reclaim the throne. Through its morally ambiguous characters, the series explores issues of social hierarchy, religion, loyalty, corruption, civil war, crime, and punishment.