Once Upon A Time Charm Pendant Necklace Evil Handmade
---
Once Upon A Time Charm Pendant Necklace Evil Handmade
£12.00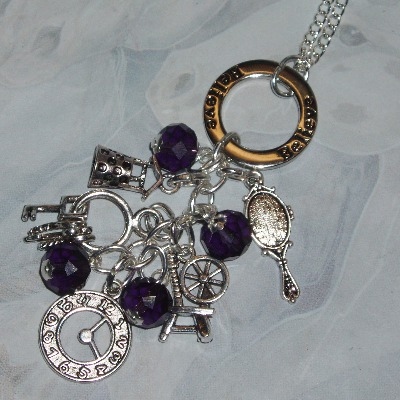 Once Upon A Time Charm Pendant Necklace.
Once Upon A Time inspired handmade pendant necklace with 5 silver plated charms representing the evil in Storybrooke, clock, keys, spinning wheel, wishing well, mirror, and 4 purple faceted crystal rondelle drops hanging from a Believe ring.
On a 24" silver plated chain. Drop from top of 20mm Believe ring to bottom of clock is approx 80mm. Every pendant is handmade to order.
Must have for any Once Upon A Time fan. Great gift.
Once Upon A Time tkes place in the fictional seaside town of Storybrooke, Maine, in which the residents are actually characters from various fairy tales that were transported to the "real world" town and robbed of their real memories by the Evil Queen Regina, using a powerful curse obtained from Rumplestiliskin. The residents of Storybrooke have lived an unchanging existence for 28 years, unaware of their own lack of aging. The town's only hope lies with Emma Swan, the daughter of Snow White and Prince Charming, who was transported from the fairy tale world in a tree before she could be cursed.