Frozen Inspired Charm Bracelet Handmade
---
Frozen Inspired Charm Bracelet Handmade
£24.00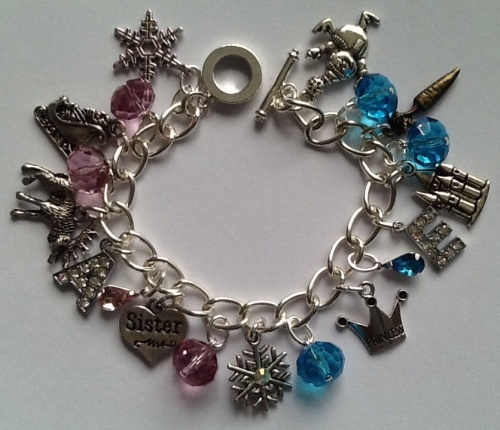 Frozen Inspired Charm Bracelet.
Frozen InspiredCharm bracelet, handmade and loaded with silver plated charms including snowflake, sleigh, reindeer, A, sister, princess, E, castle, snowman, bronze carrot, and 6 pink and blue faceted crystal drops, on a 7.5" silver plated toggle clasp chain bracelet.
Every bracelet is handmade to order.
Must have for any Frozen fan. Great gift.
Inspired by Hans Christian Andersen's fairy tale The Snow Queen, the film tells the story of a fearless princess who sets off on an epic journey alongside a rugged iceman, his loyal pet reindeer, and a hapless snowman to find her estranged sister, whose icy powers have inadvertently trapped the kingdom in eternal winter.