Once Upon A Time Charm Bracelet Loaded Charms Handmade
---
Once Upon A Time Charm Bracelet Loaded Charms Handmade
£24.00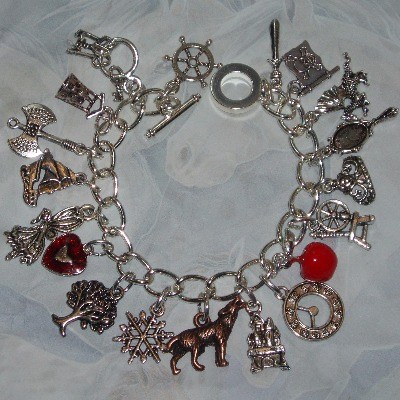 Once Upon A Time Loaded Charm Bracelet.
Once Upon A Time inspired handmade charm bracelet loaded with 19 silver plated charms
Ships wheel, bunch of keys, wishing well, axe, ship, fairy, heart, tree, snowflake, wolf, castle, clock, apple, spinning wheel, tiara, mirror, dragon, pirate flag, sword.
7.5" Silver plated chain bracelet with toggle clasp. Every bracelet is handmade to order.
Must have for any Once Upon A Time fan. Great gift.
Once Upon a Time is an American fairy tale drama series. The story takes place in the fictional seaside town of Storybrooke, Maine, in which the residents are actually characters from various fairy tales and other stories that were transported to the "real world" town and robbed of their original memories by the Evil Queen Regina, using a powerful curse obtained from Rumplestiltskin. The residents of Storybrooke, where Regina is mayor, have lived an unchanging existence for 28 years, unaware of their own lack of aging. The town's only hope lies with a bail bonds-woman and bounty hunter named Emma Swan, the daughter of Snow White and Prince Charming, who was transported from the Enchanted Forest to our world as an infant before she could be cursed. As such, she is the only person who can break the curse and restore the characters' lost memories. She is aided by her son, Henry, with whom she has recently reunited after giving him up for adoption upon his birth, and his book of fairy tales that holds the key to ending the curse. Henry is also the adopted son of Regina, providing a source of both conflict and common interest between the two women.