50 Shades Of Grey Charm Bracelet Loaded Charms Initials
---
50 Shades Of Grey Charm Bracelet Loaded Charms Initials
£24.00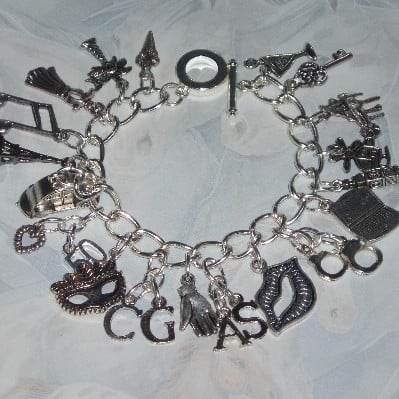 50 Shades of Grey Loaded Charm Bracelet, with Initials
50 Shades of Grey handmade charm bracelet loaded with ice cream cone, palm tree, dress, music note, Eiffel tower, Beetle car, 50, heart, mask, C G initials, twitchy palm, A S initials, smart mouth, handcuffs, computer, Big Ben, Charlie Tango helicopter, piano, key, and cocktail charms.
7.5" Silver plated chain bracelet with toggle clasp. Every bracelet is handmade to order.
Must have for any 50 Shades of Grey fan. Great gift.
You can now choose to have a sterling silver chain.
Laters, Baby.