50 Shades Of Grey Charm Bracelet Charms Crystals Handmade
---
50 Shades Of Grey Charm Bracelet Charms Crystals Handmade
£20.00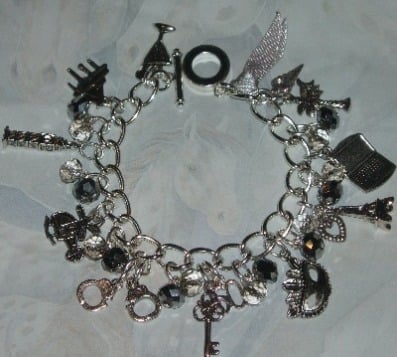 50 Shades of Grey Charm Bracelet.
50 Shades of Grey handmade charm bracelet loaded with cocktail glass, piano, Big Ben, Charlie Tango helicopter, handcuffs, key, 50, mask, Eiffel tower, heart, computer, palm tree and ice cream cone charms, a little grey neck tie and lots of silver and metallic silver faceted crystal rondelles.
7.5" Silver plated chain bracelet with toggle clasp. Every bracelet is handmade to order.
Must have for any 50 Shades of Grey fan. Great gift.
You can now select to have a sterling silver chain. This bracelet will have more charms and look slightly different as there are more links to fill.
Laters, Baby.