Steampunk Tie Pin Vintage Ladies Watch Movement
---
Steampunk Tie Pin Vintage Ladies Watch Movement
£14.00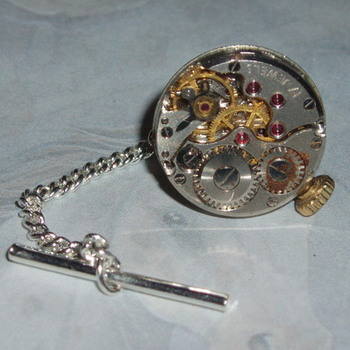 Steampunk style Watch Movement Tie Pin.
Made with a 16mm wide recycled vintage ladies watch Movement.
The beautiful round movement is securely attached to a silver plated tie tack base, with a chain and toggle.
All the workings of the watch, including cogs, springs, jewels and balance wheels can be clearly seen. Absolutely amazing.
This tie tack would make the perfect gift for any Steampunk fan. Very quirky indeed.
Would also be fabnulous for groom, Best man or Ushers at a Wedding, or for a watch or gadget lover.
Actual watch movement may differ slightly from the one shown in the picture. Not all have winders in place.