Steampunk Cufflinks Vintage Watch Movements Rose Brass Copper
---
Steampunk Cufflinks Vintage Watch Movements Rose Brass Copper
£19.00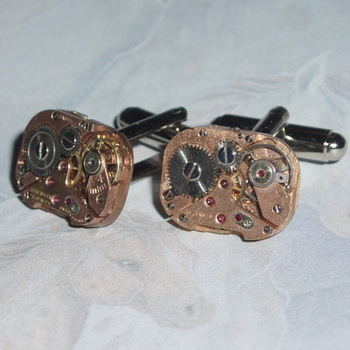 Steampunk Watch Movement Cufflinks.
Made with a pair of 15mm long recycled vintage ladies Rose Brass Copper Watch Movements. Shape of watch movements may vary from those shown in the photo.
The vintage movements are securely attached to a pair of silver plated cufflink backs.
These quirky cufflinks are made in the Steampunk style, using upcycled vintage ladies watch movements in rose brass. All the working parts can be seen on the front of the cufflinks including balance wheels, cogs, springs and jewels. These cufflinks are very unique and make stylish gifts. Perfect for a Bridegroom, Best Man or Usher, Businessman, Dad, Boyfriend, Uncle, Watch enthusiast, Steampunk fan or Gadget lover. Wonderful for Birthdays, Anniversaries, Christmas, Valentines Day or Fathers Day.
Please allow up to 10 working days for dispatch as each pair of cufflinks are handmade to order.