Octopus Pendant Necklace Creature Jules Verne Peaches Vogue
---
Octopus Pendant Necklace Creature Jules Verne Peaches Vogue
£15.00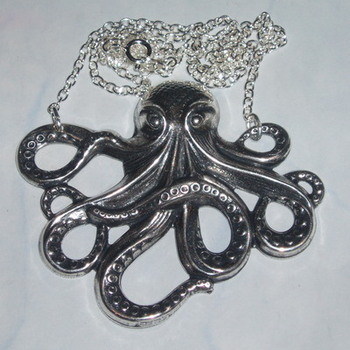 Octopus Pendant necklace
Oh so Jules Verne and very Steampunk, Creature from the Deep Octopus Pendant Necklace.
Fabulous vintage stamped silver plated Octopus, 50mm x 60mm on a silver plated chain.
Various lengths available. So simple yet so stylish.
Similar necklace has been featured in Vogue Magazine and even Peaches Geldof has been spotted wearing one.