Big Breakfast Cufflinks Plate Fry Fried Bacon Eggs Sausages Chips
---
Big Breakfast Cufflinks Plate Fry Fried Bacon Eggs Sausages Chips
£18.00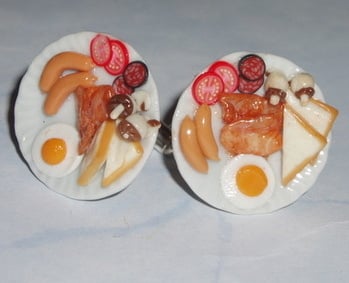 Big Breakfast Cufflinks,
Fry Upon a Plate, securely attached to silver plated backs.
The Big Breakfast includes a selection of fried foods including Bacon, Eggs, Sausages, Fried Bread, Tomatoes, Black Pudding, Mushrooms, Chips.
The cufflinks you receive may look slightly different from the set shown in the photo.
No two pairs of cufflinks will ever be the same.
Plate measures about 25mm across and is made of porcelain.
Each piece of food on the plate is individually hand made using fimo clay.
Totally unique and so in fashion.
These cufflinks are Handmade in Scotland.