Message In A Bottle Pendant Black Bow Eat Drink Dance Live Laugh
---
Message In A Bottle Pendant Black Bow Eat Drink Dance Live Laugh
£6.00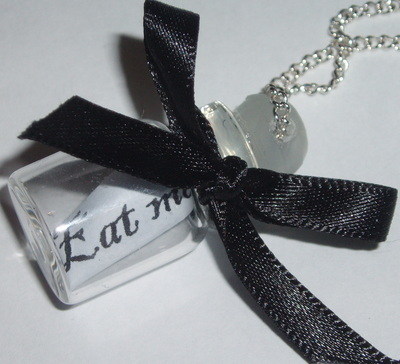 Message In A Bottle Pendant.
Absolutely bang up to the minute, miniature dolls house sweetie jar made into a pendant with a neat Black Bow around the neck.
Comes on a choice of silver plated chain lengths. Great Gift.
Choose from the 4 options below and write in the box
1. Eat me........
2. Drink me……..
3. Live well, Laugh often, Love much
4. Work as if you don't need the money, Love as if you have never been hurt, Dance as if no one is watching..
5. Special message of your own.
These are so in fashion just now so get yours before they all sell out.