Lego Cufflinks Black 2x2 Lego Bricks and 8 Swarovski Crystals
---
Lego Cufflinks Black 2x2 Lego Bricks and 8 Swarovski Crystals
£12.00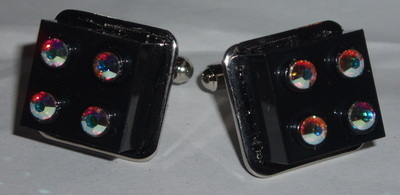 Lego Cufflinks with Swarovski Crystals
Using 2x2 Lego bricks in Jet Black, on silver plated cufflink bases, with 8 sparkling AB Swarovski Crystals, 4 on each Lego Brick.
These are so very fashionable, trendy and fun to wear.
Perfect for Wedding / Bridal / Prom wear, and they'll look fab on a white shirt with a Black Jacket. These beauties will add sparkle to even the dullest shirt.
EMO, Kitch, Retro.
I use new and re-cycled Lego Bricks.