Scrabble Bracelet 7 Tile Vintage Word Name Letters J K Available
---
Scrabble Bracelet 7 Tile Vintage Word Name Letters J K Available
£12.00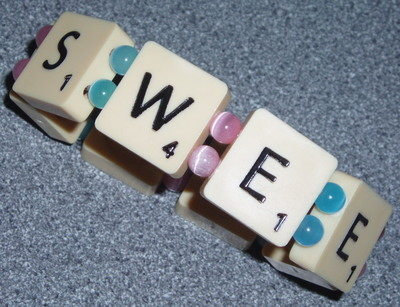 Scrabble Letter Bracelet
Handmade Stretch Scrabble Letter Word Bracelet.
This bracelet is so fashionable and fun to wear.
You choose which 7 letters you want. Can be word, name, etc. Price from £12.
Bracelet with 7 Scrabble tiles and 8mm spacer beads measures approximately 6.5".
A
ctual spacer beads will be black glass pearls rather than coloured as shown in photo.
This bracelet will fit a medium sized wrist.
If your word is less than 7 letters, please put a 'blank' in the box or boxes that are not needed and I will use a blank tile to make up the length.
I recycle Vintage Scrabble Letters so you will receive a bracelet made using thick round back black letter tiles.
NB - J's and K's are sometimes in short supply, so any jewellery with these letters may take up to 10 working days to process and dispatch. Normal dispatch for all other letters is approximately 4 working days.