Working with Crystal Clay Today
Posted on
Hi there,
Thought I'd do another Blog to tell you about the things I'm making with a new product called Crystal Clay.
The clay comes in 2 parts, colour and epoxy resin, which you kneed together in equal quantities to make a smooth piece of clay. It's very sticky and can be moulded into lots of shapes and used to fill jewellery findings such as rings and pendants. You then carefully press Swarovski crystal chatons or whatever else you want to use, into the clay using a tool with a wax end. You can also add microbeads, and can also brush on metallic powders to give a burnished sheen.
I've made a few items using silver and black clay and am about to make a new set using red clay.
It's really great fun to use and quite addictive. I'm really loving the results so far.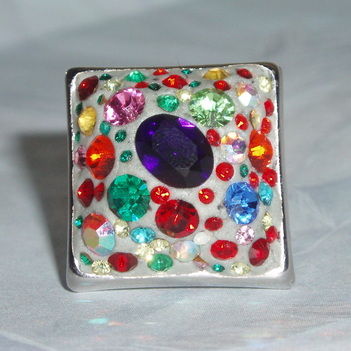 I've already listed a square domed ring on the website.
Look out for more fabulous items being listed next week.
Have a great weekend.
Jude.