A Bit About Jude's Jewels and Me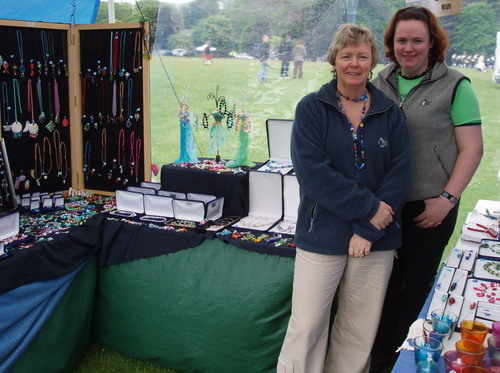 Jen and I with the Jude's Jewels stall at Aberdeen Highland Games a few years back.
My business developed from a hobby which started when I was ill in 2000.
I
needed something which would interest me and pass the time and my love of beads, gemstones and jewellery saved the day.
From very humble beginnings, my hobby grew and gradually developed into a business.
I joined a local craft association, Ochil Crafts, expanded my stock and began attending Craft Fairs.
Meeting customers and selling my products was very rewarding. T
hen I joined another craft association, Loch Lomond, and started selling jewellery at Craft Fairs further afield.
In 2004 I became ill again and in 2005 I retired after 25 years as a School Lab Technician as
I could no longer work in that field because I had developed chemical sensitivity.
I then took some time to develop my stock base and to find suppliers for boxes, bags, beads, silver fixings, etc, etc. and a
t the beginning of 2006 I started my own business, Jude's Jewels.
I soon realised that I needed to find a variety of outlets for my products, so
I contacted Fife Farmers Markets and other associations to ask if I could join their stallholders.
As I make all the jewellery I sell and am from a farming background,

I was accepted

and started attending St Andrews, Dunfermline, Kirkcaldy and Cupar Farmers Markets.
By chance I was then given the opportunity to attend the Farmers Market at Loch Lomond Shores as well. T
hen I was accepted by Ayrshire, Renfrewshire and Stirling Farmers Markets.
I am delighted to have become a crafter member of The Scottish Accociation of Farmers' Markets (SAFM) and have also joined the National Market Traders Federation.
With the help and support of my partner Nick and daughter Jennifer, I sell my handmade jewellery at Farmers Markets and Craft Fairs, in Shops, Galleries and Hotels, and at Wedding Fairs across
Scotland, from St Andrews to Largs.
I also offer a Bespoke design service for Wedding, Prom and Special Occasion jewellery and, across the Central Belt, do Party Plan and Jewellery Making Parties as well.
My jewellery is made, at home, using materials sourced from all over the world, including Pearls from Shanghai, shell from New Zealand and Florida,
gemstones from China, Amber from the Baltic, Turquoise from Arizona, glass from the Czech Republic, Swarovski Crystals from Austria,
and anything else that interests me. I have started to make much funkier pieces using re-cycled board games. Scrabble, Lego, Monopoly and Chess jewellery pieces are now my main sellers. Most popular being the Scrabble Rings made popular by Pixie Lott, but Lego Rings, as worn by Jessie J, are also good sellers. Scrabble and Lego cufflinks are always very popular as are all my funky food rings. I've now added dolls house miniature items to my ever growing stock, teacup rings, teapot pendants and teaset bracelets, as well as plates of food. My Steampunk range is now a best seller and my Acrylic range is doing well.
New for summer 2012 was my 50 Shades of Grey range, which has some of the most popular items I sell, and I've also added the hugely popular EDF inspired Zingy Blob range.
2013 saw the introduction of my Mortal Instruments range and my Dr Who inspired range.
Because so many customers suffer from Nickel allergies, I use Sterling Silver fixings and findings for all the necklaces and earrings which comply to EU nickel content guidelines. If a customer requests it, I will also make pieces using 9ct gold as well.
I use waxed cord on many of my glass and gemstone pendants, again for people with skin problems who cannot wear metal at all.
I really enjoy making my jewellery and I
hope you like it.