Divergent Inspired Charm Bracelet Handmade
---
Divergent Inspired Charm Bracelet Handmade
£24.00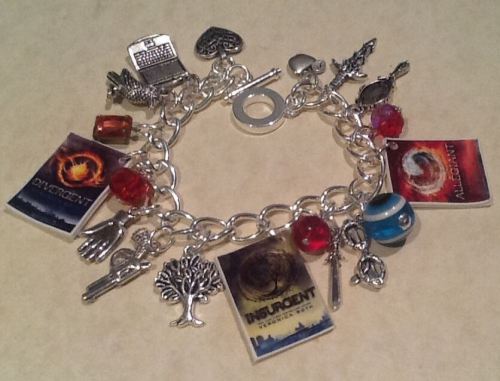 Divergent Inspired Charm Bracelet.
Divengent Inspired Charm bracelet, handmade and loaded with silver plated charms including a heart, computer, raven, hand, gun, tree, sword, glasses, eye, mirror, dagger, and an apple, a vintage faceted red glass charm (fire), three red faceted crystal rondelle beads, front covers of Divergent, Insurgent and Allegiant books, on a 7.5" silver plated toggle clasp chain bracelet.
Every bracelet is handmade to order.
Must have for any Divengent fan. Great gift.
Set in the so-called Divergent Universe, that features a post-apocalyptic version of Chicago. The novel follows Beatrice "Tris" Prior as she explores her identity within a society that defines its citizens by their social and personality-related affiliation with five different factions. Underlying the action and dystopian focused main plot is a romantic subplot between Tris and one of her instructors in the Dauntless faction, nicknamed Four. The novel explores the themes common to young adult fiction, such as adult authority and the transition from childhood to maturity, as well as broader motifs, such as the place of violence and social structures within a post-apocalyptic society.