Dr Who Charm Bracelet Tardis Sonic Screwdriver Weeping Angel
---
Dr Who Charm Bracelet Tardis Sonic Screwdriver Weeping Angel
£25.00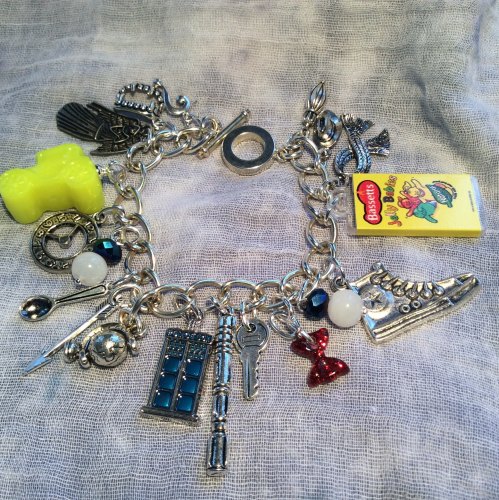 Dr Who Loaded Charm Bracelet. Tardis, Weeping Angel, Sonic Screwdriver Charms.
Handmade Dr Who charm bracelet loaded with 19 charms.
2 blue crystal and opalite drops and question mark, fangs, weeping angel, yellow vintage car, clock, spoon, arrow, globe, tardis, sonic screwdriver, key, red bow tie, converse sneaker, jelly babies, scarf, hat and unbrella charms
7.5" Silver plated chain bracelet with toggle clasp. Every bracelet is handmade to order.
Must have for any Dr Who or Weeping Angel fan. Great gift.