Bird Skull Pendant Swarovski Raven Victorian Gothic Steampunk
---
Bird Skull Pendant Swarovski Raven Victorian Gothic Steampunk
£10.00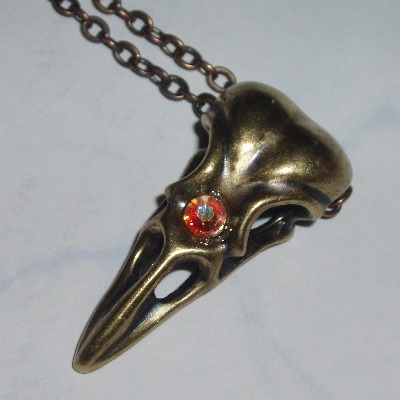 Brass Bird Skull Pendant
This fabulous Vintage look brass bird skull is 33mm long, has a Swarovski crystal accent and hangs on an 18" brass chain.
This pendant is really unusual and beautiful, slightly Steampunk, very Victorian and Gothic, reminds me of this Edgar Allan Poe poem.
"But the raven, sitting lonely on the placid bust, spoke only,
That one word, as if his soul in that one word he did outpour.
Nothing further then he uttered - not a feather then he fluttered -
Till I scarcely more than muttered `Other friends have flown before -
On the morrow he will leave me, as my hopes have flown before.'
Then the bird said, `Nevermore."