Wizard of Oz Charm Bracelet Dorothy Glinda Witch Ruby Slippers
---
Wizard of Oz Charm Bracelet Dorothy Glinda Witch Ruby Slippers
£29.00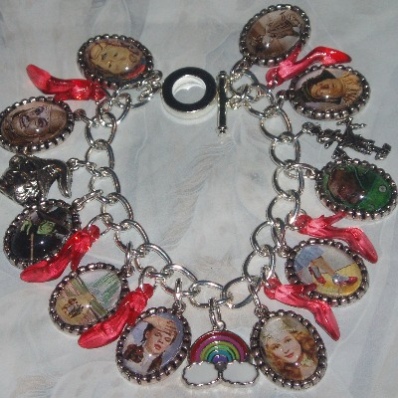 Wizard of Oz Loaded Charm Bracelet. Somewhere over the Rainbow
Wizard of Oz handmade charm bracelet loaded with 19 charms.
10 13x18mm glass cabochon silver plated photo charms featuring Dorothy, Glinda the Good, Wicked Witch of the West, Wizard of Oz, Cowardly Lion, Tin Man, Scarecrow, Ruby Slippers, Yellow Brick Road and Miss Gulch, with 6 Ruby Slipper charms, a Rainbow, a Scarecrow and a Witch.
7.5" Silver plated chain bracelet with toggle clasp. Every bracelet is handmade to order.
Must have for any Wizard of Oz fan. Great gift.