Chicken Dinner Cufflinks Roast Sprouts Carrots Parsnips Potatoes
---
Chicken Dinner Cufflinks Roast Sprouts Carrots Parsnips Potatoes
£18.00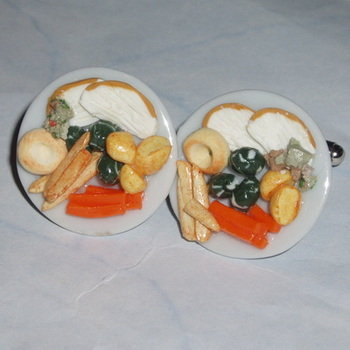 Chicken Dinner Cufflinks.
Plate with Roast Chicken, Stuffing, Potatoes, Sprouts, Carrots, Parsnips and Yorkshire Pudding securely attached to silver plated cufflinks bases. Funky, Punky and Handmade.
Plates measures about 25mm across and are made of porcelain.
Each piece of food on the plates is individually hand made using fimo clay
Totally unique and so in fashion.
These cufflinks are Handmade in Scotland.