Mah Jong Pendant Mah Jongg Mahjong Winds Dragons Circles
---
Mah Jong Pendant Mah Jongg Mahjong Winds Dragons Circles
£4.00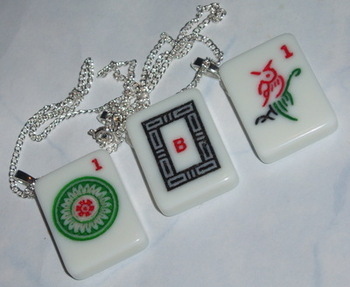 Mah Jong Tile Pendant
Winds, Dragons, Circles, Bamboos, Characters are all part of this ancient Chinese game.
The 27x20mm Mah Jong tiles are securely glued to a silver plated bail then threaded onto a silver plated or Sterling chain.
I recycle Mahjong Tiles so you will receive a pendant chosen at randon from the set.
If you want a particular tile, let me know.
I'm sorry but I no longer have any Seasons or Flower tiles.